Women-only shows held in Saudi as conservative society opens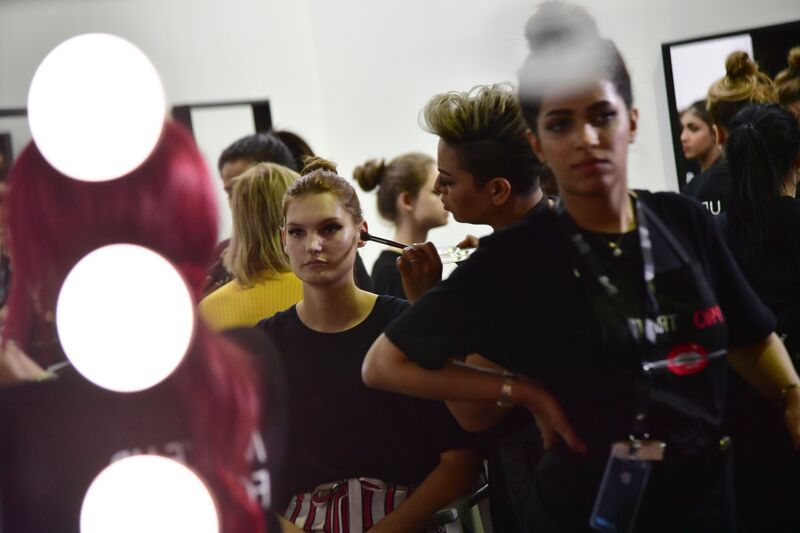 In the lobby of Riyadh's Ritz-Carlton hotel, two Russian models with slick high ponytails glide past a woman draped head-to-toe in black.
Heading for a cigarette break during Saudi Arabia's first-ever fashion week, Naya Efimova and Ira Titova were both excited and bored. Excited to be "part of history" as the conservative Islamic kingdom opens up, said Titova, 25. Bored, because they'd been told they couldn't leave the hotel without a male chaperone.
The Riyadh edition of Arab Fashion Week, which showcased local and foreign designers, was another example of the government's effort to ease social restrictions -- and the internal tensions it creates. Under Crown Prince Mohammed bin Salman, who's trying to overhaul the oil-dependent economy, the government lifted a longstanding ban on women driving and started holding mixed-gender concerts. Contrary to what the Russian models had been told, many women go about the city on their own.
Still, the kingdom is a deeply traditional society, and sometimes it seems like officials aren't sure how far they can push. There's been pushback by some Saudis against the concerts, and the unchaperoned women had better be dressed in loose-fitting robes in public.
It was a women-only audience at fashion week, where 1,500 people paid 500 riyals ($133) per show to watch models saunter down the runway wearing shoulder-baring dresses and flowing gowns that could never be worn in public in Saudi Arabia. (They'd be OK for private parties). A Russian ballet troupe performed, and Jean Paul Gaultier was among the international designers to strut his stuff.
"We have a lot of potential and amazing Saudi designers," said Princess Noura bint Faisal, president of the Arab Fashion Council. "It is a major industry in this market, and the event is just the beginning."
Princess Noura wants to bring a top fashion school to Saudi Arabia and has dreams for a "fashion city" someday. But for now, the fashion council is treading carefully. The information packet distributed to foreign journalists included a 14-point list on local laws and customs, with reminders that alcohol is banned and homosexual activity and extra-marital sexual relations are "illegal and can be subject to severe penalties."
Leaving the final show on Saturday, Saudi attendee Fatima Al Otaibi was excited that a Saudi designer had participated."It's the first time in my life I've attended a fashion show, so it's really amazing," she said.
Between drags of their cigarettes, the two Russian models mused over the fact that they had been cooped up in the same hotel that had recently been used to jail Saudi royals and businessmen accused of corruption. Not the worst thing in the world to be stuck in a luxury confine like the Ritz, they said.
Saudi Arabia Holds Its First Fashion Week – But Only Women Can Attend - FOX NAIJA
Reviewed by
Michael Tabansi
on
April 16, 2018
Rating: